Dining at Thorndike's Restaurant
The Inn's menu brings bistro elegance to country fare, with a wine list to match this range. Our food will thrill the traditional as well as the adventurous diner. We proudly prepare the majority of our food in our own kitchens including our homemade breads and rolls, rich stocks, and elegant desserts. Wines have been collected to compliment the menu. Our guests not only have a variety for their taste buds, but also their seats - whether by the fireplace, a sunny window, on our popular screened-in porch, or by the wood burning stove in our cozy and often lively well-stocked tavern.
Seasonal Menus are created in Spring, Summer & Fall and Winter time is experiment time with menus changing often weekly. It's all about the experience, with beautiful food that you eat with your eyes first and then your mouth.
Parson's Pub. . . our cozy and often lively, well-stocked tavern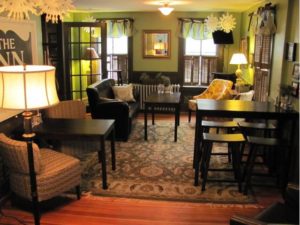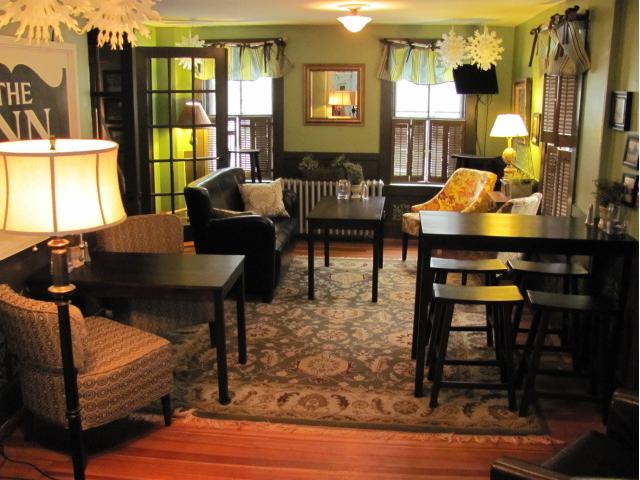 Named for the country lane next to the Inn, Parson's Pub is as quintessential as a tavern can be – warm, cozy & inviting. Featuring copper colored walls, original "Jaffrey" wood stove, bar stools engraved with names "adopted parents". Parson's Pub has a feel of old & contemporary with floating globes from the ceiling to vintage pictures of historic Jaffrey Center on the walls. A casual menu is served in the Pub with the "mad Dog" stuffed burgers and "Spud Spots" and other twists on classic tavern style fare. A fully stocked bar with a friendly bartender is always there to pour a drink, tell a joke or introduce guests to a local friend.
Click the logo to check out our menu!